Our 500 seat venue hosts numerous special events throughout the year. From theatrical productions to movie showings, from live bands to agricultural seminars, we have a little bit of everything to offer our student body and the community at large.
Maximum seating is 492.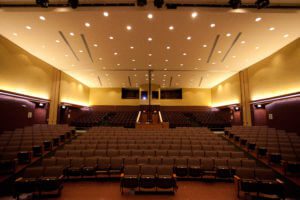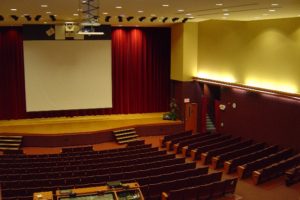 Policies
---
No food, drinks, or candy are permitted in the education center.

Only qualified personnel may be permitted to operate the stage lighting and sound reinforcement systems. Requests for a sound technician should be made through the office of the Special Events Facilitator.

All stage lighting instruments are to remain on the lighting bar.

All props, scenery, costumes, etc. brought into the educational center for a production should be removed from the building immediately after the last show.

Sandbags or weights must be used to brace props.

Set construction: (a) painting should be done outside the stage area and drop cloths must be used. (b) sawing. Do as much sawing as possible outside. No power sawing allowed inside facility.

Sponsors and/or facility users are responsible for supervising children attending auditions, set construction, rehearsals, etc.

Ticket printing: (a) There are 492 fixed seats in the Educational Center . (b) Do not print more than 492 tickets.

No open flame is to be used. Depending on the nature of the activity, consideration for permission for usage of open flame may be granted by the President.

All scheduling of events for the Educational Center shall be scheduled no later than four (4) weeks prior to the event.

The College shall have priority for Educational Center usage.

The building usage policy of Shawnee Community College applies to the usage of this building, although an additional usage fee shall be assessed when special theatrical equipment is used.

The Humanities Department shall make every effort to schedule all major events (concerts, plays, etc.) no less than one (1) semester in advance of usage.

Any changes in the number of people attending or the cancellation of this activity must be made to Jacqueline Smith at 618-634-3382 at least 48 hours in advance. Failure to do so may result in the loss of future privileges to reserve rooms at Shawnee Community College , and/or a charge of $35.00.
Equipment Usage
---
All equipment (power or otherwise) shall be turned off and locked when not in use.

College trained personnel shall operate special equipment used.

No unauthorized person shall handle lights, lift, batten, sound, or set construction equipment.

All tools shall be locked up and are the responsibility of the person or persons in charge.

Any alteration of the basic Educational Center setup shall be only by college personnel.

Whenever the sound setup in the Educational Center must be altered, a college audio/visual technician must be present prior to any alternations in the system.

The control booth must be kept locked when not in use and only authorized personnel will occupy the control booth.
General Guidelines
---
A 24-hour period for clearing of the Educational Center area shall be adhered to for all events.

The Educational Center area shall be kept locked at all times with keys readily available for authorized personnel.

Flown scenery shall be changed only by college personnel and: only with person or persons in charge present; only in hard hats; only persons directly involved with counterbalancing shall be on stage.

Outside groups shall either satisfactorily clean the Educational Center area of debris or pay an equitable cleanup fee.

All fire and safety regulations shall be strictly adhered to.

The person or persons in charge shall be responsible for any damage to building or equipment.
The above statements of policy are to make the Educational Center available on fair and equitable basis and to provide the maximum safety and security for personnel and equipment while maintaining the facility in excellent condition.
Facility/Technical Fees
---
Education Center – $100.00
Additionally, an SCC liaison is required to be present at all events in the Educational Center at the rate of $15 an hour.